Coppei Creek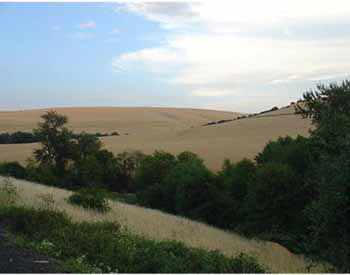 The Site
The Coppei Creek drainage is one of the few remaining native black hawthorn/blue elderberry/black cottonwood scrub forest sites in the western foothills of the Blue Mountains. The creek flows north out of the western face of the Blue Mountains into the Touchet River.

The altitude of this drainage runs from a low of 1,900 feet up to 3,100 feet along the north fork of the stream. The low-elevation sites are covered with black hawthorn, blue elderberry, wild plums, feral apples, and cherries, and right along the creek are scattered black cottonwoods, willows, and black locust. Along the eastern edge of the lower-elevation riparian buffer zones are vast dry-land wheat fields. Annual precipitation ranges from 19 inches to 24 inches. At 2,100 feet, the first conifers appearā??a thin sprinkling of Ponderosa pine and Douglas fir. As one ascends to higher elevations, the fir, western larch, and lodgepole pine dominate the wet north-facing slopes. Most west-facing slopes at higher elevations are free of trees and dominated by grasses and low forbs. Shrubs, including ninebark, shadbush, serviceberry, Juneberry, oceanspray, snowberry, sticky currant, and bitter cherry, appear along the transitional zones.

The Coppei Creek drainage is a vital neotropical migrant breeding area and a migration corridor for passerines and raptors. The high-diversity plant growth with its berry and fruit production, the huge warm-weather insect populations, and a water source attract large numbers of birds to this area. There are so many birds singing from mid-May through mid-June that it is difficult to pick out all of the contributors. There is no "silent spring" anywhere along Coppei Creek.
The Birds
About 42 species of resident birds can be found throughout this drainage: all three accipiters, Ruffed and Blue Grouse, Wild Turkey, Pileated Woodpecker, Northern Saw-whet Owl, Northern Pygmy-Owl, Long-eared Owl, and Great Horned Owls, plus Winter Wren, Brown Creeper, and more.

Close to 58 species of migrants utilize this drainage as a passage site or a breeding site. Some of these species are Yellow Warbler, Swainson's Thrush, Warbling Vireo, Vaux's Swift, and Fox Sparrow. This area has produced a number of rare species including Rose-breasted Grosbeak (two records) and Band-tailed Pigeon (one record). Bald Eagles and Bohemian Waxwings pass through during the winter months. Birds such as Veery, American Redstart, Gray Catbird, Yellow-breasted Chat, Black-headed Grosbeak, Lazuli Bunting, Calliope and Black-chinned Hummingbirds all nest here. There are also populations of Red-eyed Vireo, Vaux's Swift, and "Western type" Flycatcher along this stream.

You could see elk, mule deer, white-tailed deer, bobcat, mountain lion, and black bear, as well as many species of rodents. Also possible are rubber boa, Pacific gopher snake, and common garter snake. There are also long-toed salamanders and Pacific chorus and spotted frogs.

Directions and Suggestions
The best time to visit this site is from May to September, with mid-May through mid-July being the very best for breeding species. Fall migration begins in August. Winter can be quite still; most birds are quiet and have no desire to draw attention to their locations. This season can produce Northern Goshawk, Red Crossbill, Townsend's Solitaire, and Varied Thrush.

Take Route 12 east out of Walla Walla and drive eight miles to Dixie. Stay on Route 12 and proceed to the top of Minnick Hill. Turn east on Lewis Peak Road. Take the first fork to the left (Walker Road). Follow this up and over the hill to the ā??Tā? with South Fork Coppei Creek Road. Turn left at this junction and park on the right side. Walk the road to the north. Bird this road as far as the bridge over Coppei Creek (about one mile of easy walking and great birding). Return to your auto, turn around, and proceed slowly south, birding as you go, but do not park or stop on the road. This is the South Fork area, and it hosts many birds. To reach the North Fork area, drive north to the bridge you walked to from the ā??T.ā? Cross this and turn right onto a gravel road. After you pass the last home, about 3.2 miles up, bird the road on foot. Back in your car, you will come to the Waitsburg Watershed. Park off the road at the base of the hill, and bird on foot from the road. Watch for Merlin and Nashville Warblers during the summer months. Across and down the road from where you parked is a shallow wetland where you can observe butterflies, dragonflies, reptiles, and amphibians. Coppei Creek drainage is mostly private or off-limits municipal watershed. Please stay on the road and do not trespass! Good Birding!
Warnings: There are ticks in the spring and mosquitoes during wet summers. In the fall, always watch out for yellow jackets and their ground nests. There are also black bear in the area.

Amenities? All you will ever need can be located in Walla Walla, Waitsburg, and on east to Dayton.

References